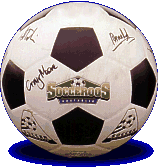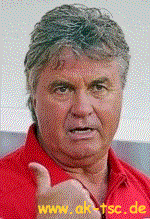 The RaleGuus

Football World Cup 2006 Germany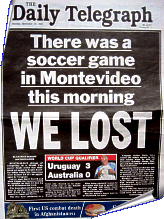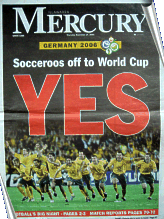 Australia is back in Germany
What a different, see the headline of the Daily Telegraph from November 2001
and, four years later the Mercury
......YES.....we made it !
This was the second time Australia qualified for a World Cup, and it was again in Germany.

The FIFA World Cup draw of December 2005, put the Socceroos in a very tough group. We had to play against Japan, Brazil, and Croatia.
As soon as the Football Federation of Australia saw where they were drawn to play the Group games, they had to find a good place to use as a base. They found Oehringen - Friedrichsruhe, a small village not too
far away from the cities Australia would play in: Kaiserslautern, Munich, and Stuttgart.

So I then had my first visit to Öhringen, later to be known around the world as "2Dots Town", in March 2006
June 2006. It's World Cup time. After its successful 1-1 draw against the Netherlands, the Australian Football team arrived on 5 June at Stuttgart airport and went straight by bus to its base in the hotel near
Oehringen.

My wife and I were invited by the city of Oehringen to stay six days in a hotel. In exchange they wanted me to curate an Australian Football memorabilia exhibition at the town's Savings Bank.

But before that, I picked up the teams of Angola and later Trinidad & Tobago from the airport. I went with them to their hotels and had some interesting discussions with the players. The captain of T&T, Dwight Yorke, who is also the captain of Sydney FC, remembered me from Sydney, when I spent some time with him and Rale Rasic, the boss of the Socceroo team back in 1974. I was given some ticket for me and my family for a coming friendly between Hamburg's St Pauli and T&T, a game that was sold out with over 20,000 in attendance.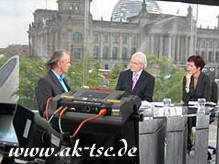 Four days before we left for Oehringen, I drove to Berlin. SBS wanted me to appear on the World Game show. In front of millions of viewers, Tracy Holmes presented me with two tickets for the game between Australia and Japan. But that was not all. TV legend Les Murray put his hands in his pocket and took out two more for the match between Australia and Brazil.
I was stunned but extremely happy. After all the work and energy I spent in my fruitless attempts to get tickets, I got a great result. I am in! Over the tournament, SBS did so much more for me, and I will come back to this later.

The next day I went to Munich to watch the opening game between host Germany and Costa Rica, a wonderful event. I left immediately that same night to travel up to Hamburg, to follow the following day's game
between Argentina and the Ivory Coast. Then late that night, I arrived back in Hanover. The Cup was underway, I saw the first of many great games, and I met my first Australian friends along the way.

After only a few hours sleep, Sabine and I carried all the Socceroo stuff to our car. It's the first time I'd given an exhibition, and I was very nervous in the hope that everything went well. We left Hanover for 2Dots Town early that day.
Copyright (c) 2006, The Southern Cross, all rights reserved